KITCHEN REMODELING HERNDON VA
Elevate your culinary haven with our exceptional Kitchen Renovation services. At Mayflowerva, we specialize in turning your kitchen dreams into reality. With years of expertise and a passion for design, our team is dedicated to delivering remarkable transformations. From modern upgrades to timeless makeovers, our Kitchen Renovation service is tailored to create a space that resonates with your style and enhances the heart of your home.
Value Base
Cabinetry replacement for up to 15 cabinets

Installation of a stunning group "A" granite countertop

Expert design and installation by our skilled team

Upgrade the look and value of your home
Everything in the "Value Base" and more...

Complete your cabinets with Trim and Molding

Fresh Paint on your kitchen's ceiling and walls

Includes 2 drawer bases cabinets

Includes a double pullout trash can cabinet
Value XL
Everything in the "Value +" and more...

Under-cabinet Lighting on a hardwired switch

Outlet Replacements over the countertop

Installation of Mosaic Tile Backsplash

Includes Appliance Hookup and Connection Permit
Personalized Kitchen Transformation
Indulge in the ultimate personalized kitchen transformation with our Custom Kitchen Remodeling Service. We understand that every homeowner has unique preferences and visions for their kitchen space. With a commitment to excellence and a focus on customization, our Custom Kitchen Remodeling Service ensures that your kitchen not only meets but exceeds your expectations, resulting in a space that's truly one of a kind.
Our approach to Custom Kitchen Remodeling Herndon Va is rooted in innovation and attentive craftsmanship. We take your ideas and aspirations and turn them into tangible reality, ensuring that every aspect of your kitchen renovation reflects your individuality. Whether it's unique storage solutions, specialized lighting arrangements, or distinct materials, our team of experts brings your dream kitchen to life.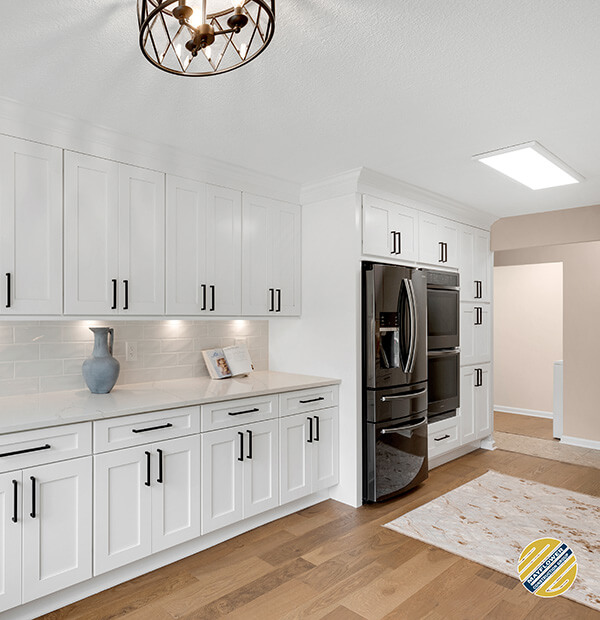 [ testimonials ]
Client Reviews
I was blown away by the quality of work Mayflower Construction did on my custom kitchen. The team was professional and efficient, and the finished product exceeded my expectations. I would highly recommend their services.
Sarah K.
HOUZZ
Mayflower Construction made my dream kitchen a reality. From start to finish, they were dedicated to ensuring my satisfaction. I couldn't be happier with the final result and would recommend them to anyone looking for a custom kitchen remodeling.
Michael P.
HOMEADVISOR
I am thrilled with the outcome of my kitchen remodeling project with Mayflower Construction. They truly listened to my needs and preferences and delivered a stunning and functional kitchen. Thank you!
Lisa G.
HOUZZ
The team at Mayflower Construction was a pleasure to work with. They were knowledgeable, attentive to detail, and committed to providing the highest quality service. I couldn't be happier with my new kitchen.
John M.
GOOGLE
Mayflower Construction exceeded my expectations with their custom kitchen remodeling service. The team was professional, reliable, and delivered exceptional workmanship. I am so grateful for their expertise and would recommend them to anyone
Emily L.
BUILDZOOM
Our comprehensive Kitchen Remodeling services cover a wide spectrum of offerings. This includes design consultation, cabinetry installation, countertop upgrades, flooring enhancements, lighting fixtures, plumbing and electrical adjustments, as well as incorporating modern appliances. We work collaboratively with you to ensure that every detail, from aesthetics to functionality, is addressed in the remodeling process.
The cost of a luxury shower can vary based on several factors, including the scope of design, materials used, customization, and additional features. Our team understands the importance of crafting a shower that aligns with your preferences and budget. We provide tailored solutions, offering a range of options that can fit different price points. To receive an accurate estimate for your desired luxury shower, we encourage you to reach out to us for a personalized consultation.
Renovating a bathroom on a budget requires careful planning and strategic choices. Our team specializes in optimizing resources to achieve remarkable results without breaking the bank. Consider refinishing instead of replacing fixtures, exploring cost-effective materials, and prioritizing essential upgrades. Our experts can guide you through the process, helping you identify where to invest and where to save, ensuring a budget-friendly bathroom renovation that doesn't compromise on quality or aesthetics.