KITCHEN REMODELING ROCKVILLE, MD
Our Kitchen Renovation service is more than just an upgrade – it's a personalized journey that begins with your aspirations and culminates in a space that enhances your daily living. From contemporary elegance to timeless charm, we tailor every detail to your taste, ensuring that your kitchen becomes the heart of your home.
Value Base
Cabinetry replacement for up to 15 cabinets

Installation of a stunning group "A" granite countertop

Expert design and installation by our skilled team

Upgrade the look and value of your home
Everything in the "Value Base" and more...

Complete your cabinets with Trim and Molding

Fresh Paint on your kitchen's ceiling and walls

Includes 2 drawer bases cabinets

Includes a double pullout trash can cabinet
Value XL
Everything in the "Value +" and more...

Under-cabinet Lighting on a hardwired switch

Outlet Replacements over the countertop

Installation of Mosaic Tile Backsplash

Includes Appliance Hookup and Connection Permit
Crafting Luxury: Custom High-End Kitchen Renovation
At Mayflowerva, we redefine the kitchen experience with our dedicated focus on opulent design and unmatched craftsmanship. Our Custom High-End Kitchen Remodeling service embodies our commitment to transforming your kitchen into a true masterpiece. We understand that your kitchen is the heart of your home, a space where elegance meets functionality. With meticulous attention to detail and an array of premium materials, we merge artistry and practicality seamlessly. From bespoke layouts to incorporating the latest in kitchen technology, our experts orchestrate a symphony of luxury, making your culinary haven a true reflection of your style and aspirations.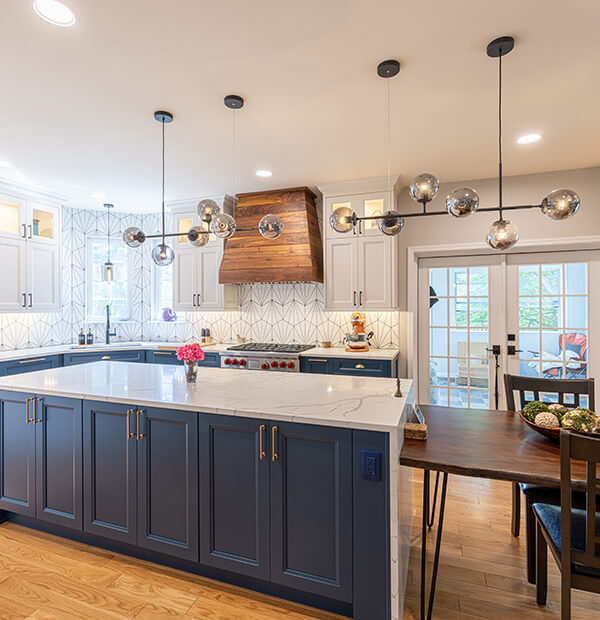 [ testimonials ]
Client Reviews
I was blown away by the quality of work Mayflower Construction did on my custom kitchen. The team was professional and efficient, and the finished product exceeded my expectations. I would highly recommend their services.
Sarah K.
HOUZZ
Mayflower Construction made my dream kitchen a reality. From start to finish, they were dedicated to ensuring my satisfaction. I couldn't be happier with the final result and would recommend them to anyone looking for a custom kitchen remodeling.
Michael P.
HOMEADVISOR
I am thrilled with the outcome of my kitchen remodeling project with Mayflower Construction. They truly listened to my needs and preferences and delivered a stunning and functional kitchen. Thank you!
Lisa G.
HOUZZ
The team at Mayflower Construction was a pleasure to work with. They were knowledgeable, attentive to detail, and committed to providing the highest quality service. I couldn't be happier with my new kitchen.
John M.
GOOGLE
Mayflower Construction exceeded my expectations with their custom kitchen remodeling service. The team was professional, reliable, and delivered exceptional workmanship. I am so grateful for their expertise and would recommend them to anyone
Emily L.
BUILDZOOM
Our comprehensive Kitchen Remodeling service encompasses a wide range of offerings to transform your culinary space. This includes layout optimization, cabinetry installation, countertop upgrades, flooring enhancements, lighting installation, plumbing and electrical adjustments, as well as incorporating modern appliances. Whether you're aiming for a modern, classic, or personalized design, our expert team collaborates closely with you to achieve a kitchen that aligns with your vision.
The cost of a kitchen renovation in Rockville, MD varies depending on multiple factors, such as the size of the kitchen, the extent of upgrades, choice of materials, and desired level of customization. Our team offers personalized estimates tailored to your project's specifics. We strive to provide competitive pricing while maintaining our commitment to high-quality craftsmanship and design excellence.
The cost of replacing kitchen cabinets can vary based on factors like the type of cabinets, materials used, and the size of your kitchen. On average, kitchen cabinet replacement costs can range from a few thousand dollars to several tens of thousands, depending on the scope of the project. To get an accurate estimate, our team at Mayflowerva would be happy to discuss your requirements and provide you with a detailed breakdown of costs based on your preferences.