KITCHEN REMODELING SPRINGFIELD VA
Are you searching for a Kitchen Remodeling service in Springfield VA? Look no further than Mayflower Construction. We provide a multitude of options to transform your kitchen, making the remodeling process easy and enjoyable. Whether you're looking for a minor update or a complete redesign, our team of experts is here to assist you. Choose from an extensive selection of cabinet styles, backsplashes, countertops, and flooring options to create a kitchen that is both functional and stylish.
Value Base
Cabinetry replacement for up to 15 cabinets

Installation of a stunning group "A" granite countertop

Expert design and installation by our skilled team

Upgrade the look and value of your home
Everything in the "Value Base" and more...

Complete your cabinets with Trim and Molding

Fresh Paint on your kitchen's ceiling and walls

Includes 2 drawer bases cabinets

Includes a double pullout trash can cabinet
Value XL
Everything in the "Value +" and more...

Under-cabinet Lighting on a hardwired switch

Outlet Replacements over the countertop

Installation of Mosaic Tile Backsplash

Includes Appliance Hookup and Connection Permit
Bring Your Vision to Life with Our Bespoke Services
Experience the transformative power of our customized Kitchen Design services in Springfield VA. At our company, we understand that each homeowner possesses distinctive needs and preferences when it comes to their kitchen. That's why we specialize in offering tailored solutions to bring your dream kitchen to life. Through close collaboration, our team of experts attentively listens to your requirements and style preferences.
 We then meticulously craft a personalized plan that aligns with your exact specifications. From bespoke cabinetry, exquisite countertops, and captivating backsplashes to stunning flooring, seamless appliance installation, and carefully curated lighting, we cover every aspect of your kitchen remodel. Employing premium materials, innovative designs, and meticulous attention to detail, we ensure that your custom kitchen not only serves its practical purpose but also radiates undeniable beauty.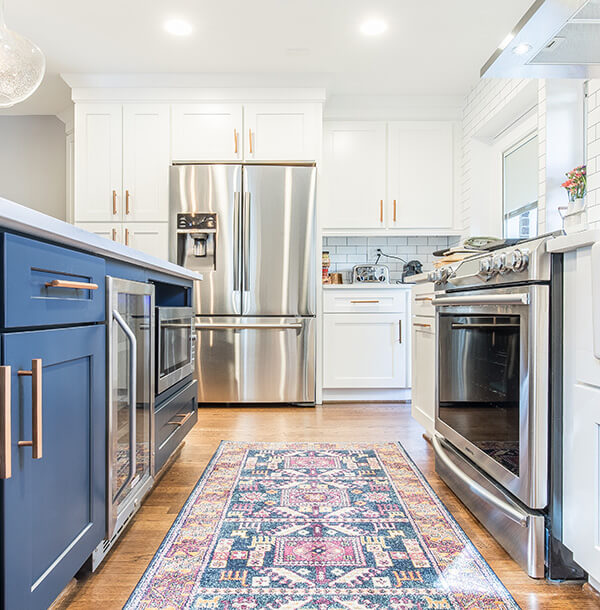 [ testimonials ]
Client Reviews
I was blown away by the quality of work Mayflower Construction did on my custom kitchen. The team was professional and efficient, and the finished product exceeded my expectations. I would highly recommend their services.
Sarah K.
HOUZZ
Mayflower Construction made my dream kitchen a reality. From start to finish, they were dedicated to ensuring my satisfaction. I couldn't be happier with the final result and would recommend them to anyone looking for a custom kitchen remodeling.
Michael P.
HOMEADVISOR
I am thrilled with the outcome of my kitchen remodeling project with Mayflower Construction. They truly listened to my needs and preferences and delivered a stunning and functional kitchen. Thank you!
Lisa G.
HOUZZ
The team at Mayflower Construction was a pleasure to work with. They were knowledgeable, attentive to detail, and committed to providing the highest quality service. I couldn't be happier with my new kitchen.
John M.
GOOGLE
Mayflower Construction exceeded my expectations with their custom kitchen remodeling service. The team was professional, reliable, and delivered exceptional workmanship. I am so grateful for their expertise and would recommend them to anyone
Emily L.
BUILDZOOM
Mayflower offers an extensive range of kitchen remodeling services designed to transform your cooking area into an aesthetically pleasing and functional space. These services include, but are not limited to, full kitchen overhauls, custom cabinetry and countertops installation, appliance upgrades, flooring and backsplash tile work, lighting enhancements, and layout optimization. Our team of experts work closely with you to understand your needs and preferences, ensuring the final result is a kitchen that perfectly reflects your personal style and meets your culinary needs.
Absolutely! Our team of experienced design consultants excels in assisting with both the design and layout aspects of your kitchen remodeling project. We collaborate closely with you to understand your vision, preferences, and needs. We then translate this understanding into a functional and aesthetically pleasing kitchen design. Whether you need help with space planning, choosing the right fixtures, or selecting color schemes, we've got you covered. We ensure your new kitchen not only meets but exceeds your expectations.
Yes, we take care of every detail of the remodeling project, ensuring a seamless and hassle-free experience for our clients. This comprehensive approach includes handling all necessary permits and inspections required for the project. Our team is well-versed in local codes and regulations in Springfield, VA, and will ensure that your project complies with all relevant rules, thus ensuring the safety and longevity of your remodeled space.